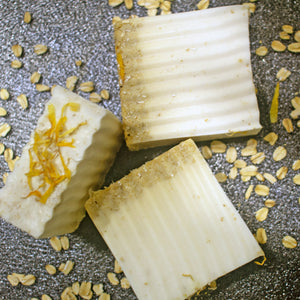 Bouillie
The Bouillie bar contains oat, a natural cleanser which removes excess oil. Organic raw honey acts as a humectant, which hydrates your skin while fighting acne and healing your skin. This bar is highly recommended for dry and/or sensitive skin. Bouillie has no additional scent and is dedicated to the French Islands of the Caribbean.
Organic & natural ingredients:  saponified oils, honey, oats
Empress Naturals recommends exfoliating 2-3 times a week. For external use only.It is best to keep your bar in a self-draining dish for longer shelf life.Please discontinue if irritation occurs. For external use only.
On average, our soaps weigh 5 oz. Please note that our soaps are hand cut so actual weight may vary slightly.
*Soap designs may vary depending on batch.