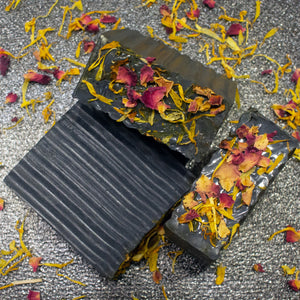 Braka
The Braka bar is made with activated charcoal, which unclogs pores to remove impurities trapped in your skin. Peppermint, eucalyptus, tea tree and shea butter all work together to reduce scars, soften and calm skin. Braka is dedicated to the Maroons of Jamaica.
Organic & natural ingredients:  saponified oils, activated charcoal, essential oils
Empress Naturals recommends detoxing weekly. It is best to keep your bar in a self-draining dish for longer shelf life. Please discontinue if irritation occurs. For external use only.
On average, our soaps weigh 6.5 oz. Please note that our soaps are hand cut so actual weight may vary slightly.
*Soap designs may vary depending on batch.