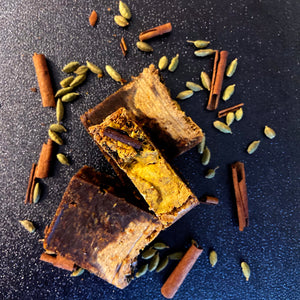 Chai
The Chai bar is reminiscent of a tea that our grandmother, Saint Elma, used to make whenever we visited her home in New York. Enriched with coconut milk, cardamom, honey, and cinnamon, you'll be sure to indulge and feel absolutely hydrated and cleansed, thanks to Chai. This bar is dedicated to our maternal grandmother, Saint Elma. 
Organic & natural ingredients: saponified oils, cacao powder, tea, honey, coconut milk, cardamom,  essential oils
Empress Naturals recommends rinsing your body to loosen up the dirt. Use warm water to lather your body and wash off. It is best to keep your bar in a self-draining dish for longer shelf life. Please discontinue if irritation occurs. For external use only.
Our imperial bars weigh 5-6 oz. Please note that our soaps are hand cut so actual weight may vary slightly.
*Soap designs may vary depending on batch