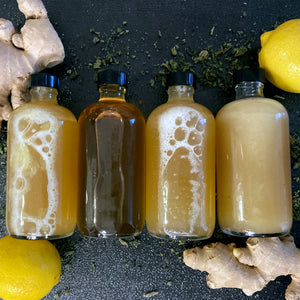 Citron
This series of gels are here to bring you a burst of royalty in the shower. Honey, Vitamin E and oils work together to deeply cleanse without drying out your skin. Available in 4 scents: Jenjanm (Ginger & Nutmeg), Vèt (Peppermint & Eucalyptus), Baunilha (Vanilla), and Citron (Citrus). These shower gels are dedicated to Haiti and the Portuguese descendants of the Caribbean.
Organic & natural ingredients: saponified oils, honey, vitamin E, essential oils 
Empress Naturals recommends rinsing your body to loosen up dirt. Use warm water to lather your body and wash off. Please discontinue if irritation occurs. For external use only.