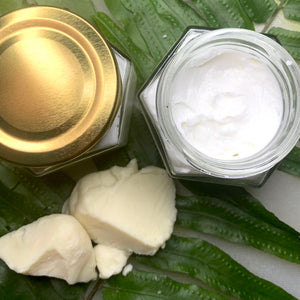 Mama Shea BB
Mama Shea is our extremely loved moisturizer which helps relieve dry patches. With our delicate ratio of hydrating oils and shea butter, your face will be nourished without being clogged or greasy, as all ingredients used are non-comedogenic. Mama Shea is dedicated to Africa, home of the shea nut. 
Organic & natural ingredients: distilled water, shea butter, almond oil, avocado oil, castor oil, beeswax, emulsifier
Empress Naturals recommends using a dime sized amount to gently rub into the face, neck and shoulders after your serum. Use twice daily for best results. Please discontinue if irritation occurs. For external use only.
*Barbados shipment/pick up only*