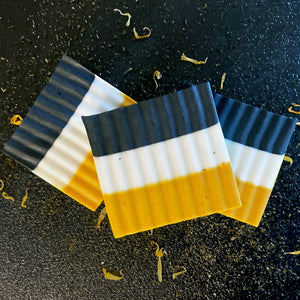 H.I.M. Emperor Bar
The Emperor Bar is multilayered to match any type of Emperor. Its base layer is turmeric with calming lavender for cleansing and brightening, while the middle layer contains nourishing shea butter, and its top base contains detoxifying properties of activated charcoal and eucalyptus. This bar also resembles the Garifuna flag, therefore we dedicate this to the Garifuna tribe.
Organic & natural ingredients: saponified oils, turmeric, shea butter, activated charcoal, essential oils.
Empress Naturals recommends rinsing your body to loosen up dirt. Use warm water to lather your body and wash off. Please discontinue if irritation occurs. For external use only.