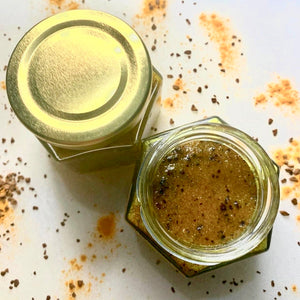 Fedu BB
Fedu is Empress Takara's absolute fave! The combination of Jamaican Blue Mountain coffee and turmeric fights hyperpigmentation, puffiness and acne, while olive oil can prevent premature aging of skin. Fedu is dedicated to the Garifuna people of Belize, Guatemala, Honduras and Nicaragua. 
Organic & natural ingredients: Turmeric, Coffee, Vitamin E
Empress Naturals recommends exfoliating 2-3 times a week before your mask. Please discontinue if irritation occurs. For external use only.
*Barbados shipment/pick up only*