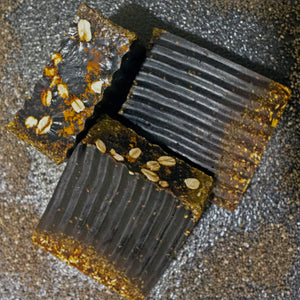 Golden Spice
The Golden Spice bar is made with turmeric which is excellent for blemishes and calming of the skin. Chia seeds and oats provide gentle exfoliation while fighting acne and providing hydration. This bar is highly recommended for combination or oily skin.Golden Spice  is dedicated to the Indo and Asian-Caribbean population.
Organic & natural ingredients:  saponified oils, turmeric, chia seeds, honey, oats
Empress Naturals recommends exfoliating 2-3 times a week. For external use only.It is best to keep your bar in a self-draining dish for longer shelf life.Please discontinue if irritation occurs. For external use only.

On average, our soaps weigh 6.5 oz. Please note that our soaps are hand cut so actual weight may vary slightly.