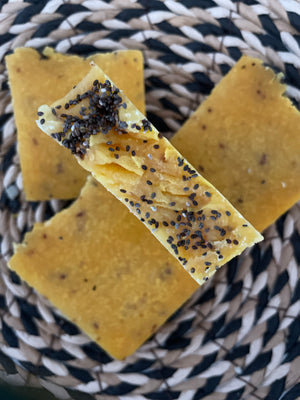 Kawòt
Kawòt is bursting with benefits. With carrot as its main ingredient, beta carotene provides skin protection and repair. Additionally, Kawòt is crafted with a master blend of oils to provide moisture and clean skin. Chia seeds also help provide gentle exfoliation to ensure your Imperial Glow! Our bar is dedicated to the Kreyòl speaking population of the Caribbean diaspora. 
Organic & natural ingredients:  saponified oils, carrot, chia seeds, essential oils
Empress Naturals recommends rinsing your body to loosen up dirt. Use warm water to lather your body and wash off. It is best to keep your bar in a self-draining dish for longer shelf life. Please discontinue if irritation occurs. For external use only.
On average, our soaps weigh 6.5 oz. Please note that our soaps are hand cut so actual weight may vary slightly.
*Soap designs may vary depending on batch.