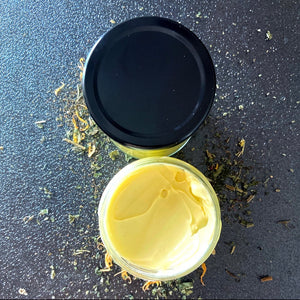 Rootz Hair & Loc Balm
A tried and tested favorite by both Empress Marquita and Takara, this balm stimulates hair growth and thickness through use of herbs and infused oils. This balm can be used for natural hairstyles, re-locs, daily maintenance etc. without damaging your scalp or skin. This product is dedicated to our natural Empresses & Emperors.
Organic & Natural ingredients:
Cocoa butter, carrot, shea butter, olive oil, tea tree, rosemary, essential oils
Empress Naturals recommends using clean fingers to apply to the hair or locs. Apply as often as needed. Please discontinue if irritation occurs. For external use only.
9 oz container