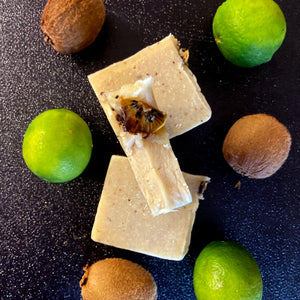 Spouge
The Spouge bar is packed with sea moss, a superfood that contains 92 minerals to help support hair, skin, and nails. This is paired with kiwi, a native fruit of India, which contains water and fat-soluble antioxidants, namely vitamins C & E. Spouge is named after the popular Barbadian music genre from the 1960s. 
Organic & natural ingredients: saponified oils, kiwi, sea moss, essential oils
Empress Naturals recommends rinsing your body to loosen up the dirt. Use warm water to lather your body and wash off. It is best to keep your bar in a self-draining dish for longer shelf life. Please discontinue if irritation occurs. For external use only.
Our imperial bars weigh 5-6 oz. Please note that our soaps are hand cut so actual weight may vary slightly.